For Our North Captiva Newsletter.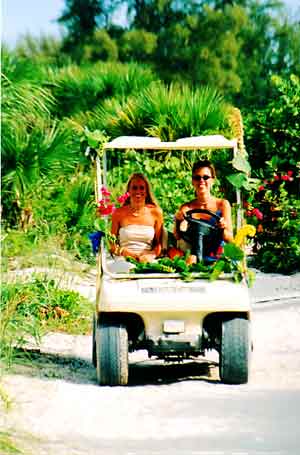 Sandy roads take me home to North Captiva Island! Quiet sandy streets lined with spectacular beach retreats rising up into the sky on wood pilings. Most homes on North Captiva are just what you imagine... the best vacation houses you could dream of. Check out our vacation rental offerings.
Smiling island guests are a natural occurrence on a private tropical vacation island like Upper Captiva! Exploring the island by Golf Cart is most often the BIGGEST HIT with the families that visit north Captiva Island. Since the island is only accessible by boat, the islanders have embraced the "Club Carts" as their favorite mode of transportation around the island. Golf Carts are the usual mode of transportation on North Captiva. The island is sculpted with a grid of sandy lanes.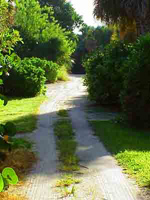 You too will be enjoying zipping here and there around the island with your "Club Cart". The carts hold a maximum of 5 people and are assigned to you by your rental company.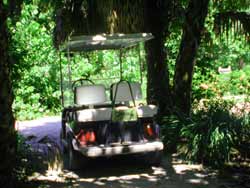 Usually the golf cart rental is included with your vacation home rental.
In all shapes and sizes, the fun is always happening with the island carts. The driving age on North Captiva is 16 years old and we hope you help to keep North Captiva safe and happy with careful driving.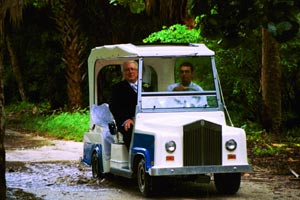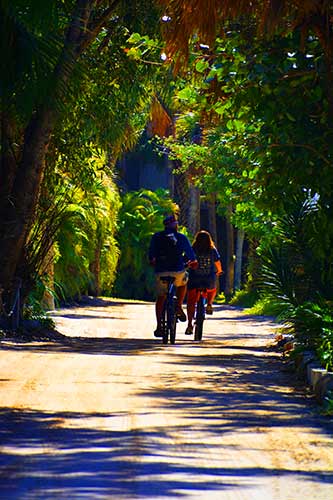 Bicyles are a fun way to get around if it is not the dry season... the roads in Jose's Hideaway and the North End stay pretty firm year round. The roads in the Dunes are just that- sand Dunes and it is tough pedalling.
Some homes include bikes with your vacation rental and North Captiva Island Club Resort offers bikes for rent.


Much more often you see kids walking back from the pool or beach... trailing a stick behind, boasting a new-found coconut... right out of Tom Sawyer!

Searching for more North Captiva information?
Homes for Sale on the Island
Since buying our very first island property over a decade ago, we have seen prices rise meteorically and then collapse. When we look at what is available in the same price range as our first island investment, we are amazed at the much improved quality of choices available. There are now better values than when we first set foot on the island. This is a great time to buy an existing home or to build a brand new North Captiva house.
On North Captiva, each neighborhood brings something different to the table. With over ten years of island living in multiple locations, we have first hand experience and can help you understand the pros and cons of owning in each area. The island has a wide variety of options, from streets with beach access at the ends of sandy lanes to a private residence community with clubhouse, pool, and activities.

What does buying a home on an island really mean?
North Captiva is home to a small, yet welcoming, community of residents, seasonal home owners, and guests that return here year after year to rent vacation homes. It just has that "feel good" factor that one often experiences in fantastic resort communities.
Is buying a property on North Captiva really any different than buying a home anywhere?
Buying a home on the island is not very different than a property purchase anywhere else. We use the standard protocol used in the state of Florida for any real estate transaction. Traditional mortgages are available for qualified buyers. Some island sellers will also finance a portion of a property purchase.
Why is it better?
Once you get used to the logistics of owning on an island, the satisfaction and enjoyment that island property ownership brings is immeasurable. It is that something special that only islands give back to you. North Captiva Island has a thriving tourist and vacation rental economy. The short term rentals that are allowed on the island can make it possible to defray some costs of ownership.
The scarcity of lots should support property values over time. With a finite supply of homes that can ever be built, the island will ultimately reach full occupancy.
North Captiva is such a remarkably different place. The surroundings are devastatingly beautiful. The tropical island vibe is so authentic for Florida, yet so close to mainland amenities while offering all of the conveniences of a small resort community.

©Copyright 2019 Resort Properties Internationale LLC North Captiva Island Real Estate