Sandy roads take me home to North Captiva Island! Quiet sandy streets lined with spectacular beach retreats rising up into the sky on wood pilings. Most homes on North Captiva are just what you imagine... the best vacation houses you could dream of. Check out our vacation rental offerings.
.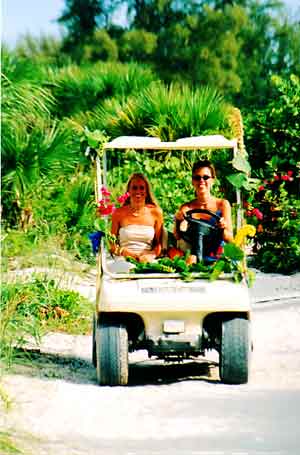 Smiling island guests are a natural occurrence on a private tropical vacation island like Upper Captiva! Exploring the island by Golf Cart is most often the BIGGEST HIT with the families that visit north Captiva Island. Since the island is only accessible by boat, the islanders have embraced the "Club Carts" as their favorite mode of transportation around the island. Golf Carts are the usual mode of transportation on North Captiva. The island is sculpted with a grid of sandy lanes.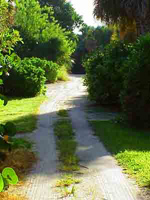 You too will be enjoying zipping here and there around the island with your "Club Cart". The carts hold a maximum of 5 people and are assigned to you by your rental company. Usually the golf cart rental is included with your vacation home rental.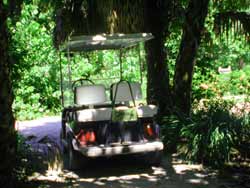 In all shapes and sizes, the fun is always happening with the island carts. The driving age on North Captiva is 16 years old and we hope you help to keep North Captiva safe and happy with careful driving.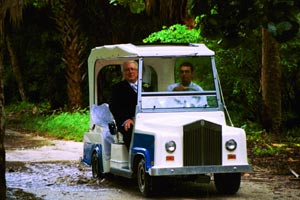 Bicyles are a fun way to get around if it is not the dry season... the roads in Jose's Hideaway and the North End stay pretty firm year round. The roads in the Dunes are just that- sand Dunes and it is tough pedalling.
Some homes include bikes with your vacation rental and North Captiva Island Club Resort offers bikes for rent.

Much more often you see kids walking back from the pool or beach... trailing a stick behind, boasting a new-found coconut... right out of Tom Sawyer!
SITE MENU
North Captiva Island Real Estate Home Page
North Captiva Island Featured Property
Upper Captiva Island Homes for Sale
Lots for Sale on North Captiva
Getting To North Captiva, Ferry Services, Water Taxis, Private Island Airstrip
Vacation Home Rentals on North Captiva

Getting Around North Captiva
North Captiva Island Builders and New Construction Information
Upper Captiva Island E-Newsletters
North Captiva Island Newsletters
Upper Captiva and North Captiva Island Rental Marketing
North Captiva Island and Upper Captiva
Upper Captiva and North Captiva Island Resort Amenities
Upper Captiva Island Restaurants and Dining
North Captiva Beaches

Upper Captiva Island Activities
Sister Islands to North Captiva and Upper Captiva
Sanibel Island Real Estate Information
Captiva Island Real Estate and Travel Information
Cayo Costa
Useppa Island Real Estate
Pine Island Real Estate
North Captiva Island Current Weather
Getting Around on Upper Captiva Island
On Island Time - Upper Captiva and North Captiva Island Lifestyle
Sanibel, Captiva Island, and North Captiva Island Maps
©Copyright 2003-2011 Resort Properties Internationale LLC Offering: North Captiva Real Estate