Bordering the private North Captiva Airstrip, this home has dynamic views and open "green space" provided by the airstrip grounds. Landscape and hardscape patio elements combine with an elegant pool and spa area, making an unrivaled tropical oasis for outdoor lounging and entertaining.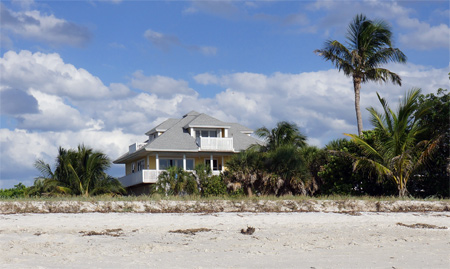 Garden corners are meticulously planned to create private retreats surrounded by flowering trees and beautiful plantings, even a meditation garden with sculpture focal point.
Inside this luxury home, the views are captured from every living area vantage The first level master suite has views of the Gulf and is tucked away from the living area for privacy.
The upstairs master suite offers its own private lookout sun deck and sumptuous bath suite. This master bedroom has a quiet sitting area with excellent Gulf views.
The living and dining rooms open up directly onto the covered porches for bringing the outside beauty righ into your great room.
The kitchen offers large open counters with gleaming granite surfaces, as well as all stainless steel appliances; even the kitchen sink focused on the views of sunset.